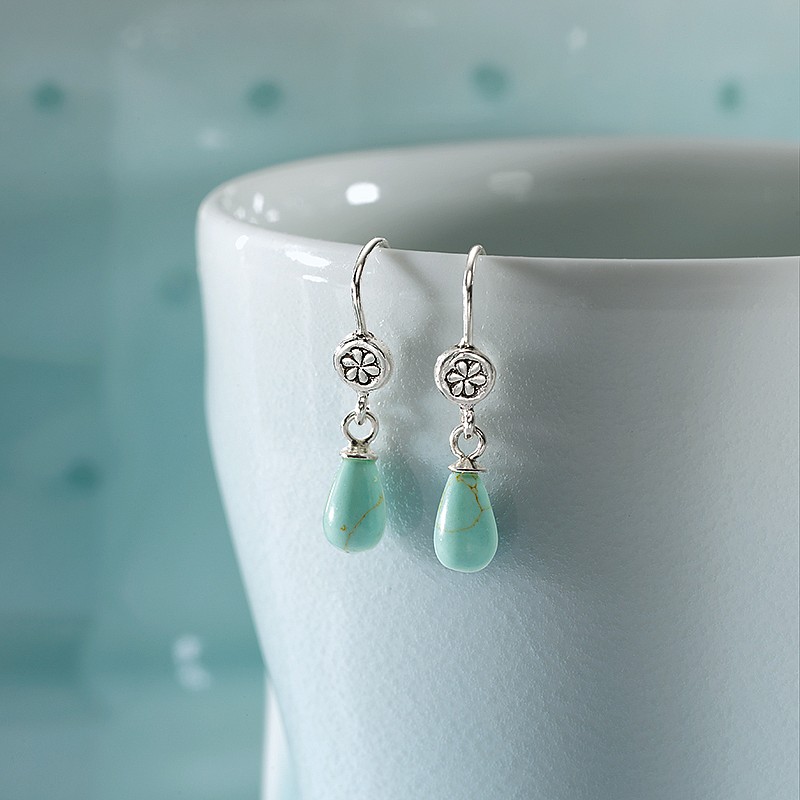 Turquoise Teardrop Earrings
Description
Turquoise drop earrings hang from flower engraved sterling silver discs. Long used as a protective talisman, turquoise is believed to be a spiritual balm, easing heart and mind. Turquoise is a natural stone which occurs in varying shades of white, making each piece unique.
To discover more about our gemstones, click here to view our guide.
Size & Additional Information
Stone length 7mm
Hang including hook 2.5cm
We Recommend
More Like This
Reviews
Overall product rating 3.4/5
Gorgeous earrings, absolutely love them!
By Montana
20 February 2019
So small I can't actually make out the silver patterning. Really disappointed in these ear rings, yet again much much smaller than suggested in the catalogue. I was about to return them when I read a line on the delivery note saying ear rings can't be returned. Not sure I saw that disclaimer in the catalogue and I've written to Customer Services saying I've not even taken them out of the box so can I please return them. No answer.
Hi there,

We are sorry that you have received poor service, someone from our customer service team will be in touch with you.


Kind regards, Montana
Great for everyday wear as well as going out. Very delicate and pretty earrings
Pretty and just the right colour
By Montana
30 January 2019
I can't rate something i don't have.
Hi Sue,

Thank you for your feedback. Your delivery of the Turquoise Teardrop Earrings was delivered on the 24th of January, so if you would like to review your earrings, that would be most helpful. If there is anything else we can assist you with, please get in touch.


Kind regards
Montana